Crisis Tales: Five Rules for Coping With Crisis in Business, Politics and Life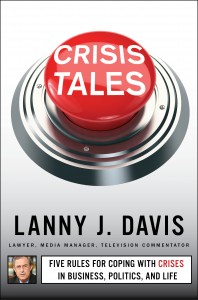 CLICK HERE FOR A SPECIAL MESSAGE FROM PRESIDENT CLINTON ABOUT LANNY'S BOOK.
On March 5, 2013, Threshold Editions, an imprint of Simon & Schuster, will publish CRISIS TALES: Five Rules for Coping With Crisis in Business, Politics and Life by Lanny Davis, veteran political strategist and former White House special counsel to President Bill Clinton.
Click here to read an excerpt.



Order by clicking any of these links:
Simon and Schuster
Amazon
Barnes & Noble
Books-A-Million
Indiebound
Apple iBooks
Nook
Kindle
Praise for the Book:
"Our company turned to Lanny Davis when we faced a legal problem in Washington. He found a way to combine his considerable legal, media, and political skills to find a solution satisfactory to all parties. This book demonstrates the effectiveness of his multi-disciplinary approach to crisis management." – John P. Mackey, co-founder and co-CEO, Whole Foods Market
"Crisis Tales offers simple crisis management rules, told through riveting true-to-life stories, that can help everyone facing a business, governmental, or personal crisis. In my experience, Lanny applies his unique combination of legal, media, and experience to get the facts out early, develop the right strategy to communicate them effectively, and find the "sweet spot" solution among competing viewpoints to solve the problem." – Gary Lauer, chairman and CEO, eHealth Inc.